A necessary reprieve from the rigors of a busy summer flying schedule brought forth a week of sunshine, crystal clear waters, and soft sandy beaches. The benefits of the entire world being accessible makes organizing these semi-spontaneous sabbaticals somewhat strenuous. This time, a few last-minute changes to my schedule opened up more time, and an opportunity to cross a visit to my family in the Holy Land off the list. And, an opportunity to baptize our youngest son in the River Jordan would make this trip even more special.
Just prior to embarking on our trip to Israel, news reports of some of the most deadly clashes in a while made their way around the world, and took a ten day itinerary touring the region off the table. Knowing these clashes are commonplace in these regions, reaching out to my Israeli family reassured me there's a better time to come visit. And so, plan A went out the window.
Plan B had not been formulated, but was slowly coming to fruition. Other opportunities to visit family abroad while celebrating one last hurrah before the school schedules take precedence thrust us into researching the availability of first-class seats across the Atlantic. Ironically, a lack of main cabin seats took Switzerland off the list, as our youngest isn't able to fly standby up front. So, back to the drawing boards and our world map mural to find out what's next.
Plan C was taking a new feature at work to sort flight loads based on seat availability. The hotter months of the year keep the Caribbean crowds off the islands, as does the varying start dates for school across the country. Trying to piece together what island and for how long and what to do there added more complexity to the process but ultimately we did what seems to work best for us. Each of us packed a backpack with a weeks worth of adventure necessities, and we boarded a flight to Atlanta to see where the non-rev gods would send us.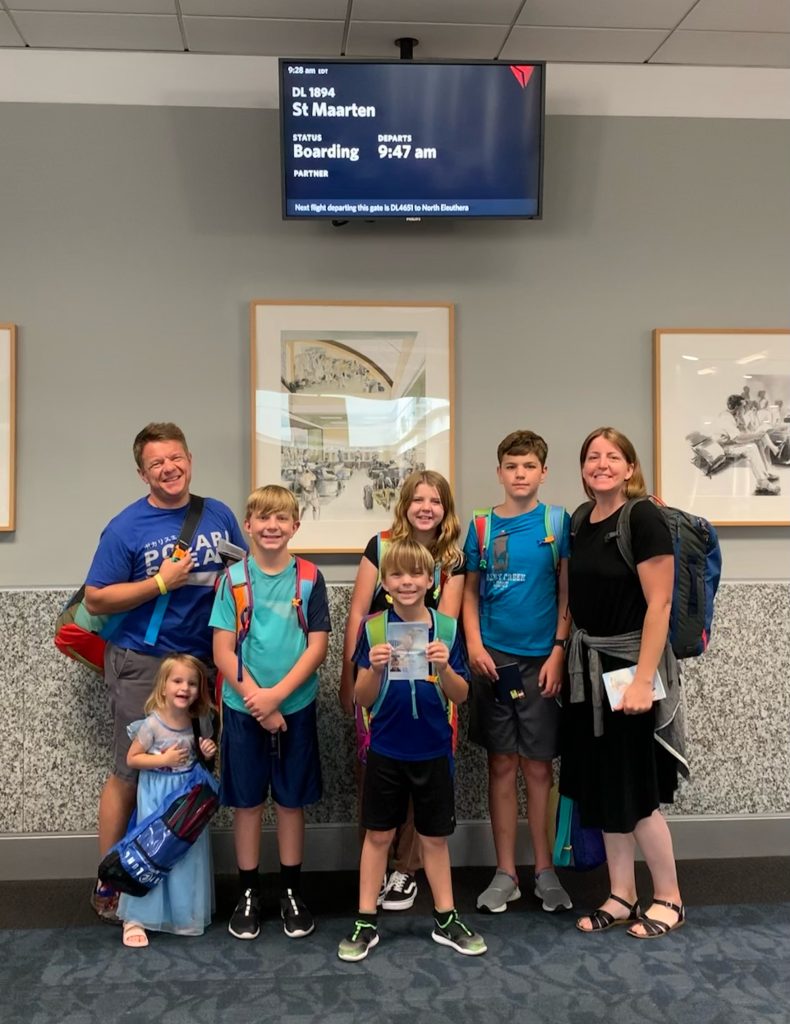 Sint Maarten it was. A beach located mere meters from the somewhat displaced threshold of one of the longest runways nearby welcomes Caravans, Islanders, Twin Otters, and A330s alike, with dozens of airplane nerds grinning ear to ear while the sky is momentarily obscured by these flying machines. Soft sandy beaches and some of the clearest water in the Caribbean only compliment the friendliest faces around. Unlike other plans, this one had only one to-do item: get there. And so we did thanks to a somewhat empty flight from Atlanta.
Arriving at a much-improved hotel somewhat familiar from an earlier trip from work, the front desk staff was caught off-guard that someone would arrive thousands of miles from home without a reservation. After a few phone calls, however, that was no longer an issue. A crew rolling seven deep has repeatedly encroached on limits set by the mythical Fire Marshall that says we can't fit in one room. Thankfully, this establishment was able to accommodate us in two rooms that happened to be joined together.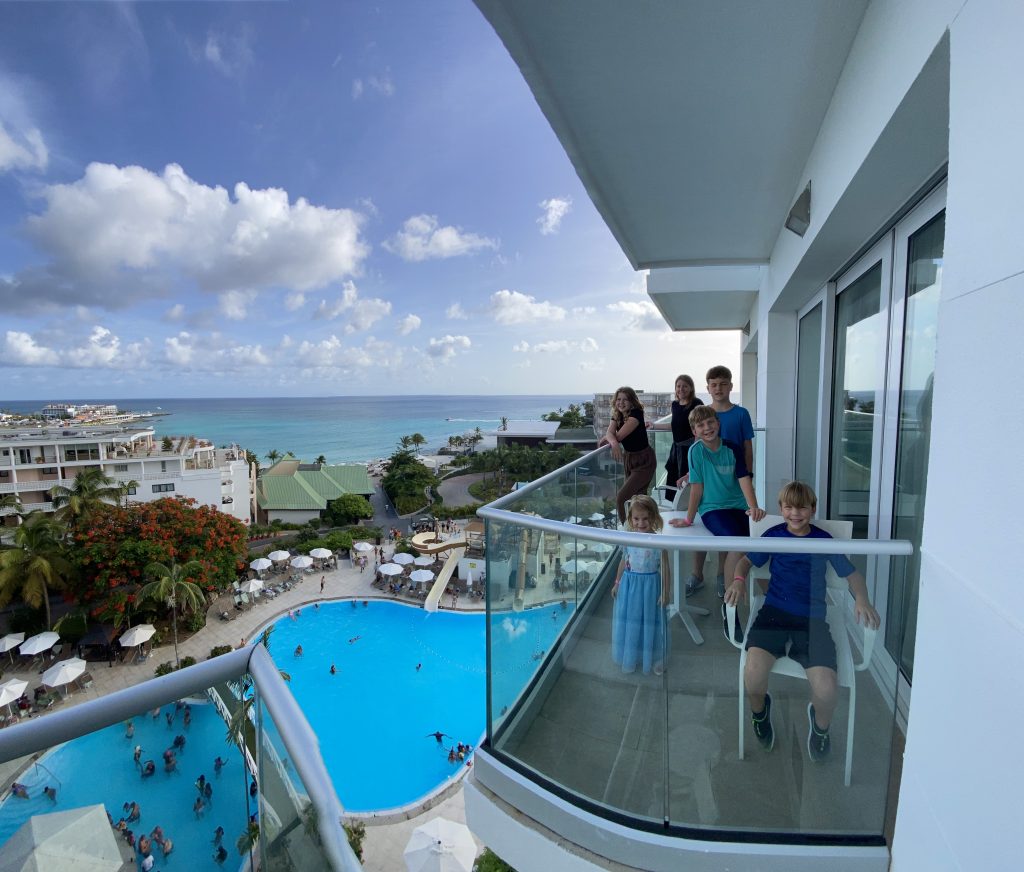 Bestowed upon by the caretakers of these beautiful vistas, wristbands empowered even the smallest of the family with the ability to procure food and beverage without resistance. But nobody cared about that. They saw pools, slides, and beaches, and took off. Even the organized scavenger hunts, video game rooms, and kids-only hangout areas were bypassed for hastily-applied sunscreen races to the slides.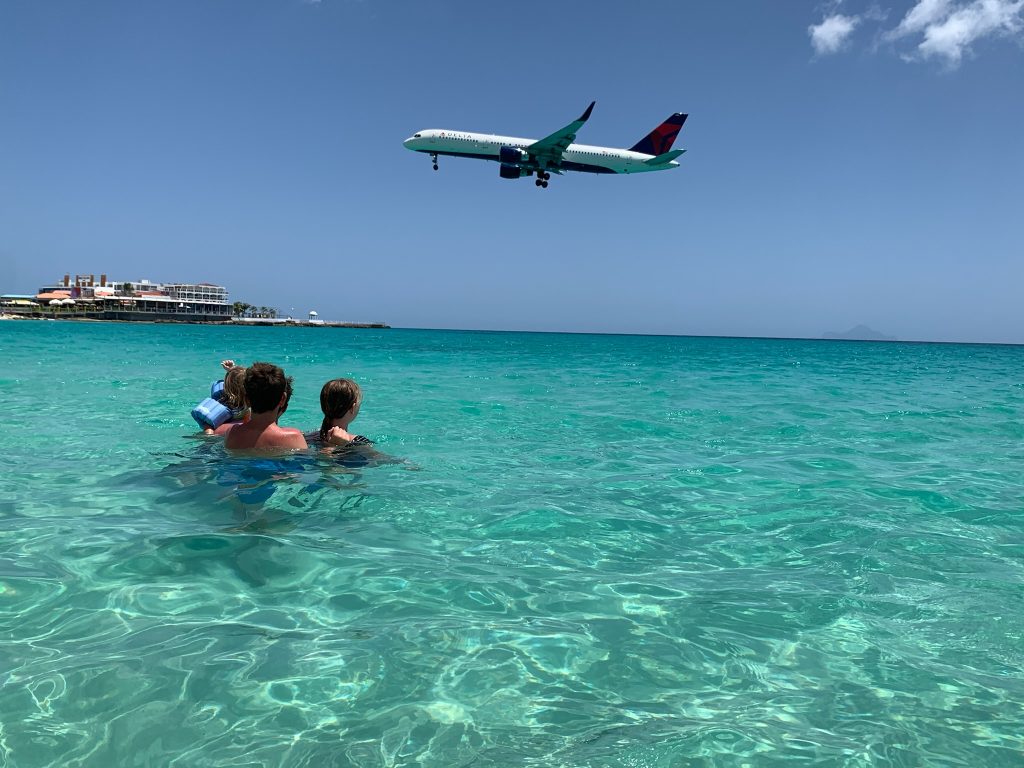 Minutes spent in the infinite sunshine forced us into the water, and as clear and temperate as it was, there was little to no resistance in entering. Once the various shapes and sizes of fish were observed within arms reach was there any resistance observed, albeit for a short time as our curiosity grew through the sharing of our one snorkel mask we brought. Quick glances into the skies yielded breathtaking views of the winged machines that bring nearly everything to an island with zero exports (and zero farmland).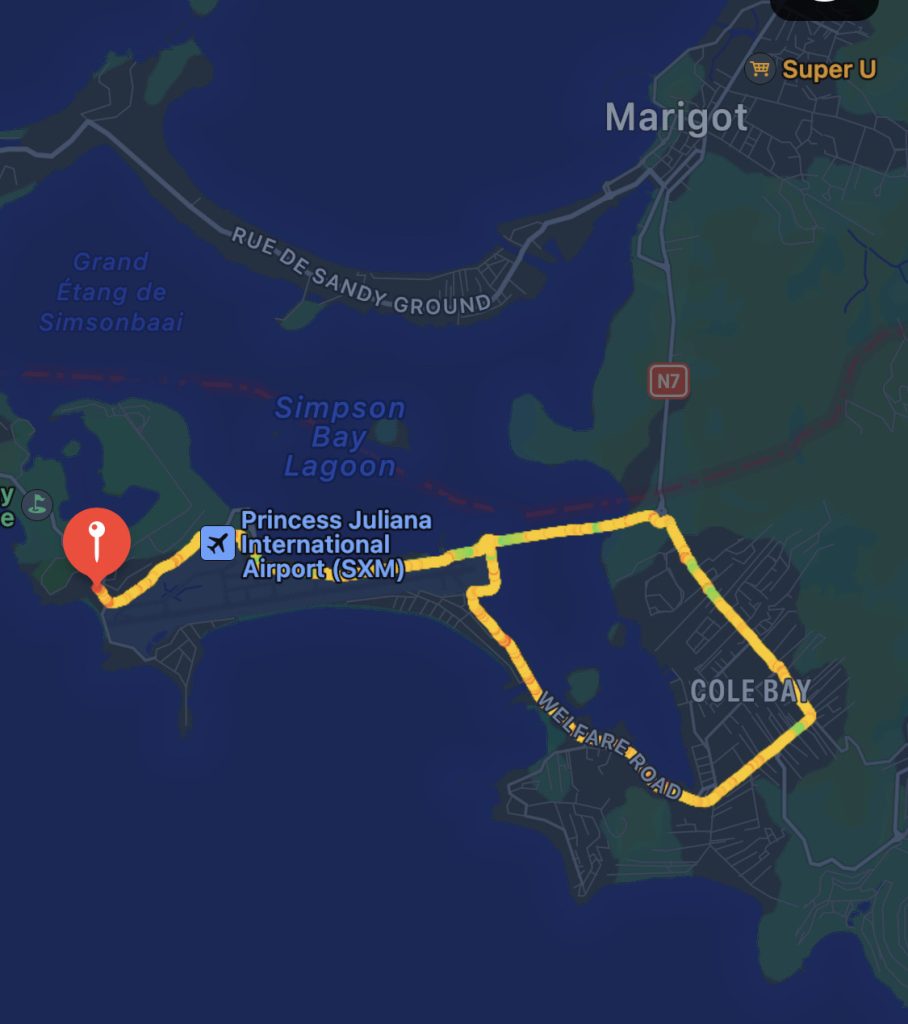 Other than an additional snorkel mask or two, six fully loaded backpacks ready for adventure came with just about everything we needed…except for cash. Surely, in a post-COVID world ApplePay would have spread quicker than fear. And for most of the world, that would be true. But the Caribbean…not so much. Sint Maarten had a rough last few years. Before the effects of the pandemic shut down their main source of income, hurricane Irma brought the island nation's worst disaster in history. Once the storm passed through the island, structures destroyed by fire were unable to be reached by first responders. And once the winds settled, widespread panic and anxiety set in, turning islanders against themselves while driving others to leave what was left of their homes on any boat or plane they could fit on.
On top of that, a power outage during the evening took out all the requisite communication links that made the three nearby ATMs worthless. But cash had to be procured; an upcoming sunset sailboat trip required cash to pay our humble taxi driver for his services. Unfortunately, I didn't learn the "why" regarding how the one casino and two airport ATMs were out of service until I was at about mile 5 on the morning's run slash cash adventure. Thankfully, perseverance that borders on stubbornness supplemented by a need for some more endorphins culminated in finding the one ATM that functioned properly and dispensed the necessary cab fares (and tip money).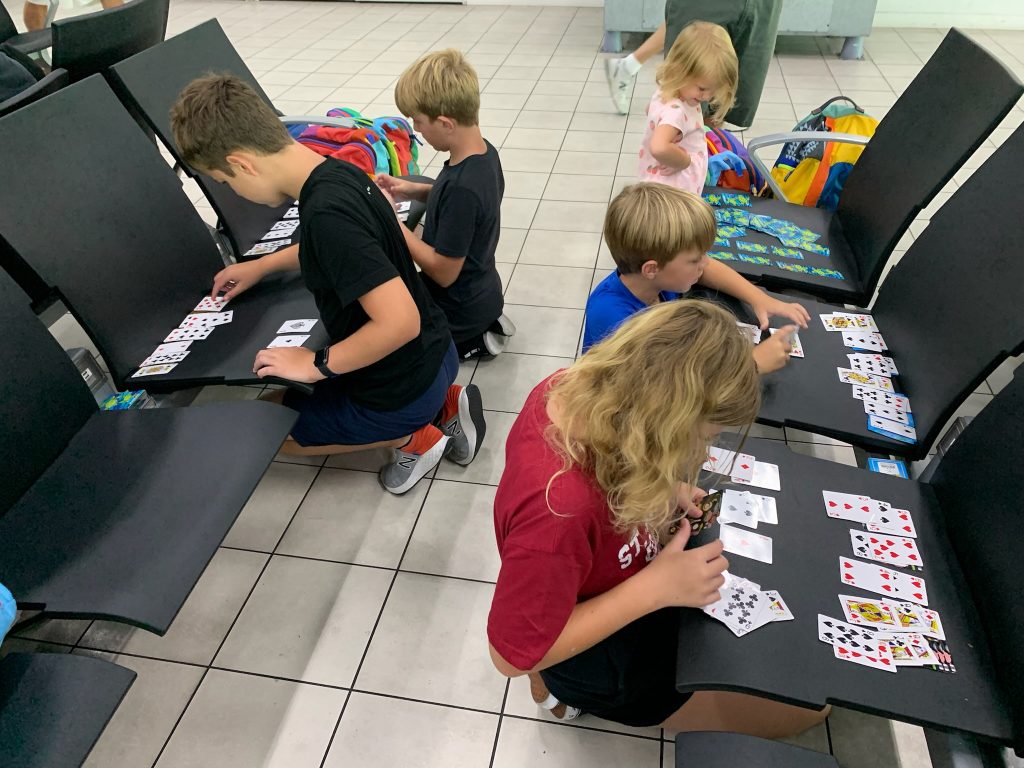 Unbeknownst to us, plans to enjoy paradise before school wasn't an original idea. A few extra hours sitting around the airport brought out the best in my children, and the worst in my mind. Keeping themselves occupied with the Evans standard playing card cache (usually reserved for our nightly nertz battles), my mind began to plan our escape from the island. Sailboat charters, island hopping puddle jumpers, and ever-shrinking open seats did their best to try to sully the end of the week, as did an airport with limited dining options (all which closed six hours prior to the final departure of the night). But five seats opened up on the last flight to Atlanta, which left Matt and I to our own devices.
A few tricks to unlock "free" "airport" "WiFi" and our Plan D started to come to fruition. Thanks to a group text that's spanned many years of various airline employees across the world with one hell of an origin story (to be told later), our friends at jetBlue were going to get Matt and I off the island. And they did with the nicest smiles and warmest hearts one wouldn't expect from a flight crew who's nearing the limits of their duty period thanks to a few downline delays.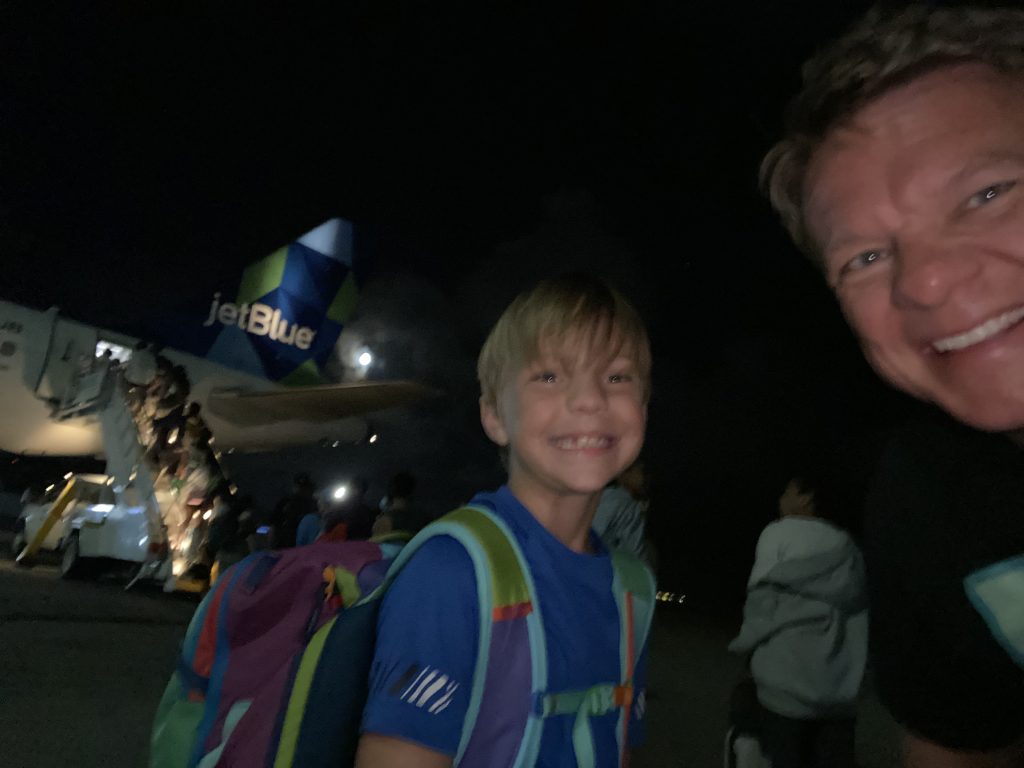 Plan D had one major kink in it. jetBlue doesn't fly where we wanted to go, but it was off the island, and being the last flight of the night, beggars can't be choosers. A handful of hours to kill in New York stretched our imaginations as we toured the expanses of the airport that were open to passengers who could clear customs and the required re-screening. And when the airport started to open up, having napped here and there, we mustered whatever energy we could find to enjoy a brief moment in the big apple.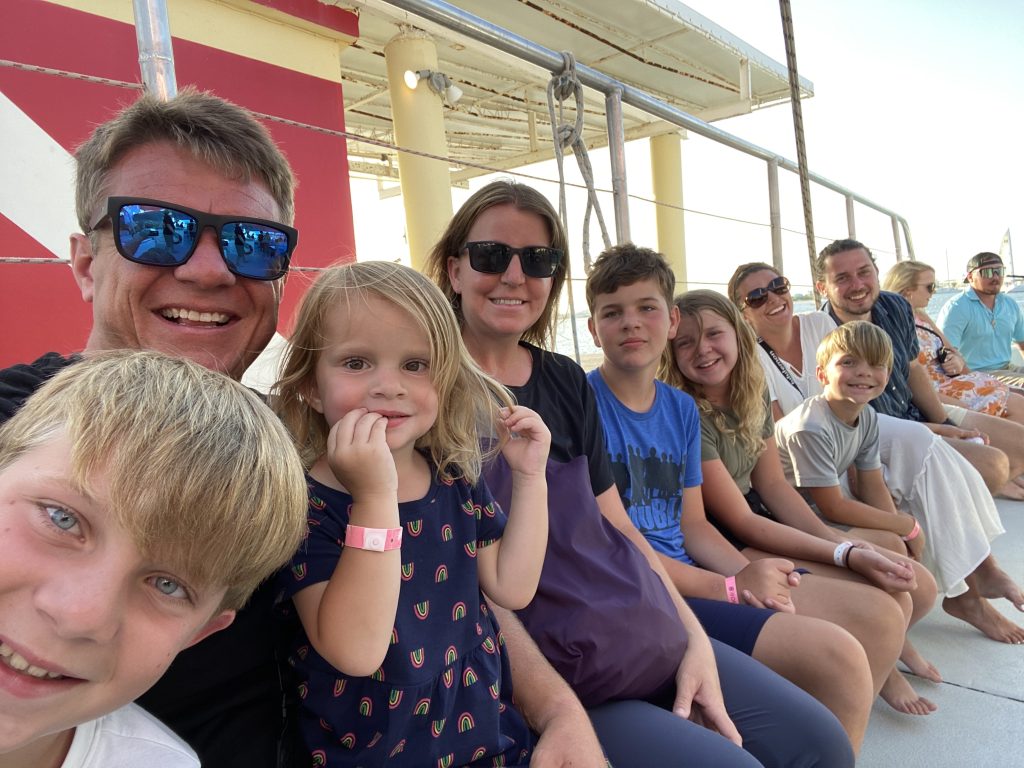 More than the adventure of getting home, the memories made while taking one last week before the grind of school, soccer, and other scheduling constraints will be an adventure we'll never forget.  Having worked my fair share of overtime trips for a little extra cheddar this summer, a week of sunshine, sand, and sunburns was well received, and well earned. One of these days we'll teach Jack how to smile. Until then, we'll pray for peace in the Middle East, where Plan A can come to fruition, and months of research and months of time apart can open up a new part of the world for our journals. And when the kids are ready for Uncle Lukas' culinary "brick" of Switzerland, we'll have Plan B in our back pockets.